Prince William Sound Ski Touring & Heliskiing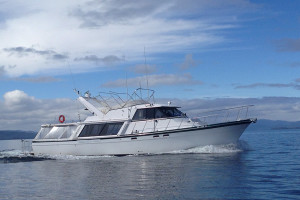 "Castaways"
Our 53' live-aboard vessel "Castaways" is the ultimate "mobile lodge" platform for Prince William Sound. Enjoy being in remote bays surrounded by wildlife and having a dry, warm basecamp for your adventure. Castaway's can sleep 6 comfortably in its 3 private staterooms, along with having 2 full heads.
With a full modern kitchen, you will also enjoy some amazing meals while on your trip, from fresh seafood from the waters of PWS including spot prawns, halibut and Copper River red salmon to steaks on the barbeque. When you get up in the morning you can expect a full hearty breakfast from home fries, eggs and bacon to pancakes and sausage before heading out on your ski tour or heliskiing day.
In the living area there is plenty of seating to hang out and relax along with a 32' flat screen TV for
watching movies on those days the weather delays skiing. The whole boat boasts granite counter tops and tables, along with leather couches to hang out on.
Castaway's also has a 12.5KW diesel generator below deck allowing us to power a small city if needed. This allows us to have an amazing heating system onboard and you can expect 70 degree inside temperatures after those long cold or wet days. On top of that in the back "drying room" we have boot dryers, and hanging racks for all your clothes.
The best seat on the boat on a sunny day is the front outside couch where you can enjoy some of the most amazing scenery in the world as we cruise out to Prince William Sound.
Your ski adventure can be solely human powered where 3-5,000 foot runs to the ocean are the norm. You can also opt to call in the heli to assist in lifting you to some of the most remote areas of the Chugach Mountains that make up and surround the coastal Alaska area of Prince William Sound.
Ski Touring Packages start at $2,400/person (with 4 people) and include….
– 6 days, 5 nights accommodations aboard the vessel "Castaways"
– 4 days guided ski or snowboard touring
– An experienced lead and assistant guide (also Vessel Captain)
– All meals
– Up to 14 hours transport aboard "Castaways"
– All backcountry safety gear
– All ground transportation while in Valdez
-*(Splitboards and touring skiis are available for an additional cost)
*Additional vessel transportation above 14 hours of travel are charged at $200/hour
*Helicopter support is available for $1,200/hour per person (minimum 4 people)
*Contact us for more info and availability